Reliability & long term use
We would all love the products we buy to last forever.
Sadly, this is not the case, but many products do last for a reasonable amount of time and we have read many stories of users enjoying 5+ years from their Oral-B electric toothbrush.
Every brush that we test, we check over for obvious signs of weakness or defects.

The very nature of being an electronic item with moving parts does indeed make the brush susceptible to failure.  However, the reliability of Oral-B products tend to be very good.
With the Smart 4 4000, a 2 year/24 month warranty is included as standard from the time you buy the brush.
Go online, register the brush and you get a further 12 months absolutely free.  That is 3 years of warranty.
Therefore should the brush fail within the first 3 years of ownership you are covered.
For 99.9% of users there will be years of hassle free brushing, but should you be one of the 0.01% where inevitably something does go wrong, Oral-B do not leave you high and dry.
You can get full details of the warranty and the associated process here.
The Smart 4 uses a handle design that has been tried, tested and perfected over many years and I really can't find any obvious faults with it.  It is well built and solid in hand.
I know from past experience that most Oral-B models will survive a few falls to the bathroom floor, in most instances.
Price & where to buy
I have included links to buying options . In the section below, I discuss the price more generally and in relation to similar products.
Most products are given a recommended retail price (RRP) by the manufacturer, the Smart 4 4000 is no exception.
The RRP here is £120.
This is not the most ludicrous given some of the RRP's for other brushes, but it is still more than you should pay.
To put it into perspective, you can quite often purchase Oral-B's most premium electric toothbrush the Genius 9000 (4 models up from the Smart 4) for less than this £120.
Typically with Oral-B brushes, the actual selling price is around half the RRP.
Thus a price from £50-£70 is pretty fair here.
I paid exactly half, £60 to get my hands on this brush.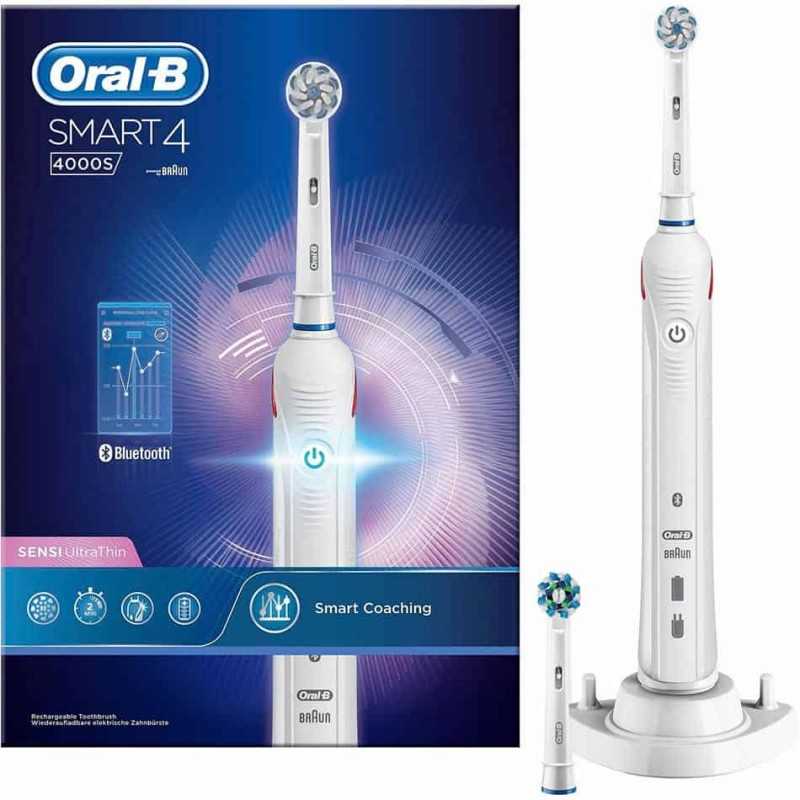 Prices will vary from store to store.  Quite often online retailers will have the best price, but promotions run by high street stores at certain times of the year will see them come inline or cheaper than other retailers.
Often high street retailers like Superdrug and Boots run promotions which result in much lower ticket prices.
Ultimately, pay a price you deem fair and are happy to pay, but spending over £70 you should question, given the other brushes available for the price.
This brush like every other requires replacement brush heads for each user every 3 months.  Replacement heads can be purchased in packs of 4 and are priced on average between £11 and £14.
One of the benefits with the Smart 4 is that you do get 2 of the same brush heads included, so if you like that style of brush head you do save yourself a little on the cost.
Using the average cost (based on one user) and ownership over 3 years (the same as the warranty period (if registered online)), the Smart 4 4000 will cost £90 or 8p per day to own.
This price does exclude the cost of water, toothpaste and electric to charge it.  This price also works on some assumptions, but you get a rough idea.
You can bring the cost down further if you were to share it with other members of your household.  All you need do is invest in extra brush heads.
Battery life
The key reason that the SmartSeries 4000 has been updated to this, the Smart 4 4000 is battery life.
Up until now, Oral-B has been producing brushes that have offered far inferior battery life when compared to the competition.
However, they have managed to remain strong and essentially get away with it, because the price has often been more favourable.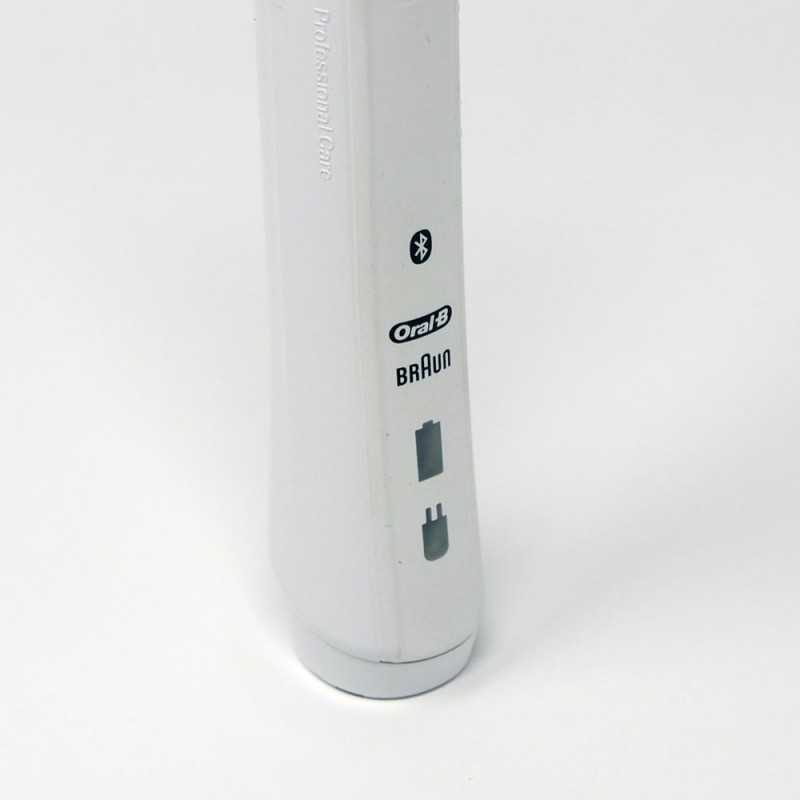 There is the reality that most of us don't need over a weeks battery life, but there is something to be said for having the ability to take a brush away on holiday and not having to worry about charging it!
To date, with the exception of the Genius brushes, all others used a battery type known as Nickel Metal Hydride (NiMH).  Although okay, this battery technology has really been superseded by Lithium-Ion (Li-Ion) batteries.  These are the types of batteries we find in our smartphones.
As a result of this change, the Smart 4 and other models now have a battery life more fitting of the current climate.
The older SmartSeries 4000 offers 7 days use or 28 minutes of actual usage time.
With the Oral-B Smart 4, this has more than doubled.
In our testing, we were able to get 66 minutes of usage time from the rush, which equates to 16 days use.
The 16 days we measured is based on one user brushing twice a day for 2 minutes.
Various conditions may affect this quoted usage time, but safe to say you are getting at least double the performance, yet despite the battery change the physical size of the brush handle has not altered.
Some Sonicare and Colgate models do actually achieve up to 3 weeks, but Oral-B are now much much closer in their capabilities.
On the brush handle are 2 icons that light up, a battery icon and a charger icon.
When the battery is low, it is the charging icon that will flash red.
Sit the brush on the provided charging stand and the battery icon will flash green.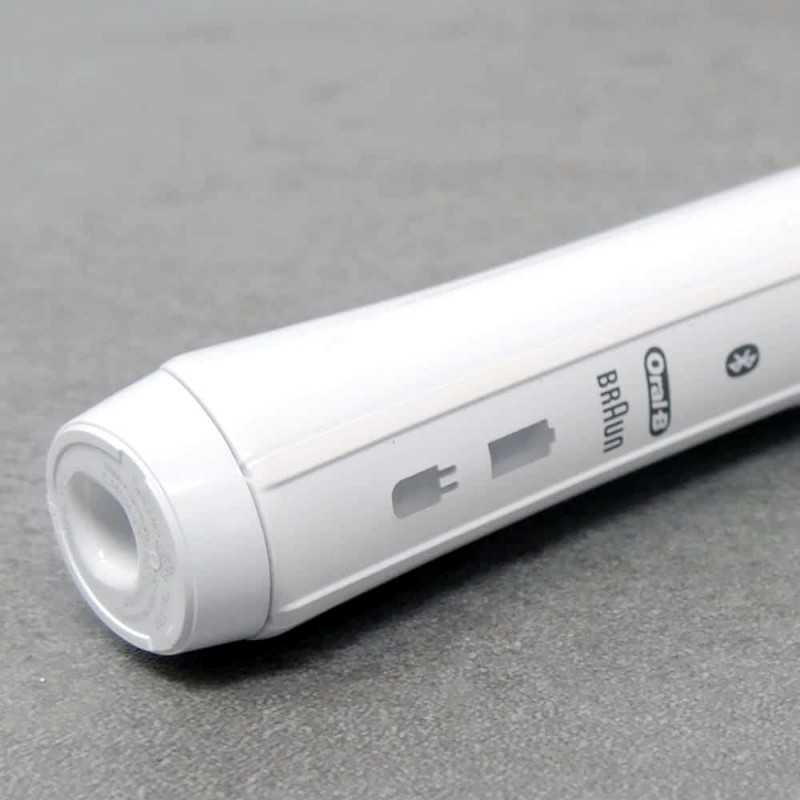 Made of plastic, the charging stand has a prong on the top, on which the Smart 4 will sit to be recharged.  This aligns with the recess in the base of the Smart 4 brush handle.
This charger has a power cable that will typically connect to a power socket found in a bathroom.  The 2 pin connector works on 220-240v and can be connected to a 3 pin UK socket with use of an adapter.
Variants of this toothbrush
There are potentially several different variations of this brush, the primary difference being the brush heads included in the box.  Some retailers may or may not clearly label the different models, so it is worth being vigilant and understanding the differences.
Smart 4 4000N – This is the Smart 4 4000 with CrossAction brush head
Smart 4 4000S – This is the Smart 4 4000 with a Sensi UltraThin brush head
Smart 4 4000W – This is the Smart 4 4000 with 3D White brush head
The brush handle is normally white in colour but a pink coloured handle is available too.  The pink handle is most commonly provided as the 4000W with the 3D White brush head.
Another 2 slightly different variants:
Pro & Cons
Here are what I consider to be the pros and cons of the Smart 4 4000.
The Positives
Battery life – A much needed boost given the premium price tag of this brush, now boasts up to 16 days of usage.
Design – A slim profiled brush that looks and feels good in the hand.
Cleaning modes – Additional choice of modes over the standard Daily Clean.
Bluetooth connectivity – Monitor, track and improve your cleaning.
Pressure sensor – A rear mounted pressure sensor illuminates red should too much force and pressure be applied to the teeth. Acting as a visual indicator you are clearly made aware to reduce the pressure and chances of doing damage to the teeth.
Conclusion
I give the Smart 4 4000 a rating of just 3 out of 5.
On one hand, I feel this is a little harsh, on another I believe it is justified.
There is no denying that this brush cleans the teeth and mouth well.  It offers a pretty decent battery life, whilst also looking fairly good and feeling solid and slim in hand.
At the time of writing it is the best electric toothbrush to offer Bluetooth connectivity and for that, I should not knock it as much as I have.
But, the box contents lacks, there should be some form of smartphone stand included and ideally a travel case.
Even if the price had been a further £10 it would have rounded off the package and made this a really solid buy and convinced me to give a 4* rating.
If you are going to offer smart features you need to encourage use and a smartphone stand would have been helpful in this case, to give the phone a home rather than the user having to hold it or place it on a work surface.